bron
The Low Countries. Jaargang 12. Stichting Ons Erfdeel, Rekkem 2004
codering
DBNL-TEI 1
Wijze van coderen: standaard
dbnl-nr _low001200401_01
logboek
- 2011-04-21 IB colofon toegevoegd
verantwoording
gebruikt exemplaar
eigen exemplaar dbnl
algemene opmerkingen
Dit bestand biedt, behoudens een aantal hierna te noemen ingrepen, een diplomatische weergave van jaargang 12 van The Low Countries uit 2004.

De Digitale Bibliotheek voor de Nederlandse Letteren beijvert zich voor het verkrijgen van toestemming van alle rechthebbenden; eenieder die meent enig recht te kunnen doen gelden op in dit tijdschrift opgenomen bijdragen, wordt verzocht dit onverwijld aan ons te melden (dbnl.auteursrecht@kb.nl).
redactionele ingrepen
p. 3: De titel 'The Low Countries' op pagina 2 en 3 is in zijn geheel op pagina 3 geplaatst. Pagina 2 is hierdoor komen te vervallen.
p. 44-45: Het bijschrift 'Paul Delvaux, Evening Trains. 1957. Koninklijke Musea voor Schone Kunsten, Brussels. © Fondation Paul Delvaux, St Idesbald - sabam Belgium 2004.' op pagina 44 is bij de desbetreffende illustratie op pagina 45 geplaatst.
p. 84-85: Het bijschrift 'Pile-up on the E 17, somewhere between Antwerp and Kortrijk (1998). Photo by Tim Dirven.' op pagina 84 is bij de desbetreffende illustratie op pagina 85 geplaatst.
p. 300-301: Het bijschrift 'Juliette Gréco, Paris, 1948. Photo by Emmy Andriesse.' op pagina 301 is bij de desbetreffende illustratie op pagina 300 geplaatst.
p. 300-301: Het bijschrift 'Paris, 1948. Photo by Emmy Andriesse.' op pagina 301 is bij de desbetreffende illustratie op pagina 300 geplaatst.
Bij de omzetting van de gebruikte bron naar deze publicatie in de dbnl is een aantal delen van de tekst niet overgenomen. Hieronder volgen de tekstgedeelten die wel in het origineel voorkomen maar hier uit de lopende tekst zijn weggelaten.
[pagina [voorplat]]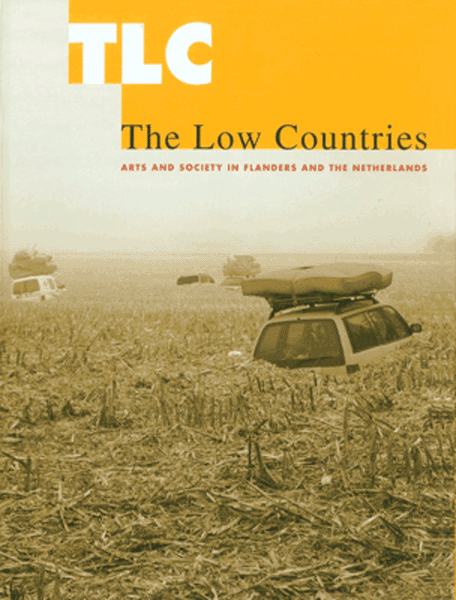 Foundation
This twelfth yearbook is published by the Flemish-Netherlands Foundation 'Stichting Ons Erfdeel', with the support of the Dutch Ministry of Education, Culture and Science (The Hague) and the Flemish Ministry of Culture (Brussels).
The Foundation 'Stichting Ons Erfdeel' also publishes the Dutch-language periodical Ons Erfdeel and the French-language periodical Septentrion.
Arts, lettres et culture de Flandre et des Pays-Bas, the bilingual yearbook De Franse Nederlanden - Les Pays-Bas Français and a series of books in several languages covering various aspects of the culture of the Low Countries.
The Board of Directors of 'Stichting Ons Erfdeel'
President:
Herman Balthazar
Managing Director:
Luc Devoldere
Directors:
Greetje van den Bergh
Jan Bosselaers
Marcel Cockaerts
Jan Desmyter
Bert de Graeve
Vaast Leysen
Cecile Maeyaert-Cambien
Aad Nuis
Frits van Oostrom
Adriaan van der Staay
Cees van der Velden
Ludo Verhoeven
Honorary President:
Philip Houben
Address of the Editorial Board and the Administration
'Stichting Ons Erfdeel', Murissonstraat 260, 8930 Rekkem, Flanders, Belgium
T +32 56 41 12 01, F +32 56 41 47 07
www.onserfdeel.be, www.onserfdeel.nl
Head of Administration:
Bernard Viaene
Administrative Secretaries:
Adinda Houttekier / Hans Verhaeghe
Aims
With The Low Countries, a yearbook founded by Jozef Deleu (Chief Editor from 1993 until 2002), the editors and publisher aim to present to the English-speaking world the culture and society of the Dutch-speaking area which embraces both the Netherlands and also Flanders, the northern part of Belgium.
The articles in this yearbook survey the living, contemporary culture of the Low Countries as well as their cultural heritage. In its words and pictures The Low Countries provides information about literature and the arts, but also about broad social and historical developments in Flanders and the Netherlands.
The culture of Flanders and the Netherlands is not an isolated phenomenon; its development over the centuries has been one of continuous interaction with the outside world. In consequence the yearbook also pays due attention to the centuriesold continuing cultural interplay between the Low Countries and the world beyond their borders.
By drawing attention to the diversity, vitality and international dimension of the culture of Flanders and the Netherlands, The Low Countries hopes to contribute to a lively dialogue between differing cultures.
ISSN 0779-5815
ISBN 90-75862-68-7
NUR 600/612
Copyright © 2004 'Stichting Ons Erfdeel'
Printed by Die Keure, Bruges, Flanders, Belgium
Design by Luc De Meyer (Die Keure)
All rights reserved. No part of this publication may be reproduced in any form without the prior permission of the copyright holder.
[pagina 1]
The Low Countries
Cover: Honoré δὈ and Franciska Lambrechts, Sinking Test (2003)
[pagina 3]
TLC 12
2004 The Low Countries
ARTS AND SOCIETY IN FLANDERS AND THE NETHERLANDS
Published by the Flemish-Netherlands Foundation Stichting Ons Erfdeel

[pagina 4]
Editorial Board
Chief Editor:
Luc Devoldere
Deputy Editors:
Dirk van Assche
Frits Niessen
Reinier Salverda
Secretary:
Filip Matthijs
Members:
Saskia Bak
Anton Korteweg
Bart van der Straeten
Hans Vanacker
Advisory Committee
Fred G.H. Bachrach, Twickenham, United Kingdom
E.M. Beekman, Amherst, ma, usa
André Brink, Cape Town, South Africa
Christopher Brown, Oxford, United Kingdom
Bram Buijze, The Hague, The Netherlands
Patricia Carson, Ghent, Belgium
Jan Deloof, Zwevegem, Belgium
Theo D'haen, Leuven, Belgium
Bruce C. Donaldson, Melbourne, Australia
Charles Ford, London, United Kingdom
Amy Golahny, Williamsport, pa, usa
Jaap Harskamp, London, United Kingdom
Adrian van den Hoven, Windsor, Ontario, Canada
Jonathan Israel, Princeton, nj, usa
Frank Ligtvoet, New York, ny, usa
Gitta Luijten, Amsterdam, The Netherlands
Martin Mooij, Capelle a / d IJssel, The Netherlands
Arnold J. Pomerans, Colchester, United Kingdom
Ethel Portnoy, The Hague, The Netherlands
Paul R. Sellin, Los Angeles, ca, usa
William Z. Shetter, Bloomington, in, usa
Johan P. Snapper, Berkeley, ca, usa
Kees Snoek, Dordrecht, The Netherlands
Paul Vincent, London, United Kingdom
Leo Vroman, Fort Worth, tx, usa
Rudi Wester, Paris, France
John Willemse, Pretoria, South Africa
Michael J. Wintle, Amsterdam, The Netherlands
Manfred Wolf, San Francisco, ca, usa
Joanna Woodall, London, United Kingdom
[pagina 5]
Contents
Stuck in Motion
11
Luc Devoldere
Foreword
12
Pieter Leroy
Mobility: Absurdity and Poetry, Economics and Stubbornness
22
Gerard van Westerloo
The Scrub Pine Syndrome Walking in the Netherlands
30
Pol Hoste
My Head is a Small Boat to America An Extract from 'Montréal, Carnet II'
34
Luc Devoldere
Of Stations Passed
46
Anton Korteweg
The Netherlands Gets on its Bike
Ten Cycling Poems by C. Buddingh', Jan Kuijper, Gerrit Komrij, Gerry van der Linden, Kees Ouwens, Ad Zuiderent, Jan Kal, H. van Teylingen, T. van Deel and Robert Anker
58
Marc Dierikx
A Gleam of Silver Disappearing into the Clouds How Time Stopped Flying for Fokker
65
Erwin Joos
Impressions of Enforced Mobility On the Waterfront: Eugeen van Mieghem, Harbour Painter
70
Thomas Rosenboom
If the Future Is a Traveller on his Way... An Extract from 'The New Man'
74
Filip Matthijs
In God we Trust...In Cars we Rust
[pagina 6]
86
Frits Bolkestein
Dutch Identity in Europe
98
Ethel Portnoy
How an American Became a Dutch Author
103
David Van Reybrouck
Urban Wildlife Zoos in the Low Countries
110
Lut Missinne
'Why?' Is Not the Right Question On the Work of Carl Friedman
Three Columns by Carl Friedman
119
Dana Linssen
A Chocolate Oscar for Paula van der Oest
127
Herbert van Uffelen
Speak to Live On the Work of Ivo Michiels
136
Harrison Ryker
Mosaics of Tones Willem Pijper and his Music
142
Lars Kwakkenbos
The Sublime, Seized and Frozen with a Click Moments from the Work of Marie-Jo Lafontaine
148
Rita Ingram Givens
Anna Enquist: Form and Vision; Analysis and Feeling
Two Extracts and Three Poems by Anna Enquist
158
Johan de Vos
Like the Music of our Time The Rhythm in the Work of Photographer and Filmmaker Anton Corbijn
[pagina 7]
164
Din Pieters
A Museological Dilemma The New Van Abbemuseum
171
Derek Blyth
The End of Melancholy Mechelen Revisited
180
Frank van der Ploeg
The Song of the Inner Voice Karel Appel's Serial Versatility
188
Geert Buelens
A Total Eclipse of the Heart About Dirk van Bastelaere
An Extract and Three Poems by Dirk van Bastelaere
199
Philip van Praag
How the Dutch Lost their Innocence
205
Walter P. Simons
Islands of Difference Beguinages in the Medieval Low Countries
214
Arthur Eyffinger
The Hague, International Centre of Peace and Justice
224
Tineke Reijnders
Portrait of the Artist as a Perennial Angry Young Man Gerald van der Kaap, Non-Genre Artist
237
Roland Jooris
Icons without Religion The Work of Dan van Severen
244
Hans Ibelings
Cohesion in the City The Architecture and Urban Design of Jo Coenen
248
Gerritjan Deunk
Oases that Speak for Themselves Gardens by Jacques Wirtz
[pagina 8]
Chronicle
Architecture
258
Marieke van Rooy
What's to See on the Motorway?
The First Architecture Biennale in Rotterdam
Cultural Policy
260
Luc Devoldere
Making a Case for Multatuli
The Dutch-Flemish Centre for Europe in Brussels
262
Koen Jaspaert
Surinam and the Dutch Language Union
Dance and Theatre
264
Katie Verstockt
From the Banal to the Universal
Alain Platel and Les Ballets C de la B
266
Wim Chielens
Tenderness... on the Rocks
Herman van Veen, Harlequin
History
269
Fred G.H. Bachrach
Ostend Revisited
271
Reinier Salverda
A Legacy of Elegant Scholarship
Professor Ernst Kossmann Remembered
273
Chris Emery
A European Isle
Raoul van Caenegem's 'History of England'
Language
276
Reinier Salverda
The Other Ninety-Six Languages of the Netherlands
277
Rudi Janssens
The Other Languages of Brussels
Literature
279
Yann Lovelock
Laurels Casting Lustre
J.M. Coetzee's Anthology of Dutch Modernist Poems
281
Koen Broucke
'I am a stream of words'
ABC (Antwerp World Book Capital) 2004 -XYZ 2005
282
Johan Depoortere
Engineers of the Soul
Writers and Water Management in the Soviet Union
[pagina 9]
Music
284
Filip Matthijs
Life during God's Break
Pop Music in Flanders
287
Ernst Vermeulen
Peter Schat, Acting and Blundering in Freedom
Science
288
Reinier Salverda
'The only use of these flowers is to be a delight for the eyes'
Rumphius' Orchids
290
Filip Matthijs
Introducing the World
Abraham Ortelius and his 'Theatrum orbis terrarum'
Society
292
Hans Vanacker
Sprinting between Kitchen, Children and Podium
The Life and Times of Fanny Blankers-Koen
295
Tom Christiaens
Gazette van Detroit: The Voice of the Flemish in North America for 90 Years
297
Bart Eeckhout
Landscapes of Leisure
Visual Arts
300
Hans Aarsman
A Statue of Woman
Emmy Andriesse, Photographer
302
Lut Missinne
The Aftermath and the Aftermath's Aftermath of Dada in the Low Countries
304
Dirk van Assche
Now (or Never)... Rubens
306
Filip Matthijs
Short Takes
313
Bibliography of selected Dutch-Language
Publications translated into English
(traced November 22, 2002 -November 21, 2003)
318
Contributors
319
Translators
[pagina [achterplat]]
Address of the Administration
Stichting Ons Erfdeel, Murissonstraat 260, 8930 Rekkem, Flanders, Belgium
T +32 56 41 12 01, F +32 56 41 47 07, E tlc@onserfdeel.be
www.onserfdeel.be, www.onserfdeel.nl. vat be 410.723.635
Prices for the yearbook 2004, no. 12
Australia a$ 85, Belgium € 37, Canada c$ 75, The Netherlands € 39, New Zealand nz$ 110, Republic of Ireland € 50, South Africa r 350, United Kingdom £ 30, usa $ 45
Other Countries: the equivalent of € 50
All prices inclusive of shipping and bank costs