bron
The Low Countries. Jaargang 14. Stichting Ons Erfdeel, Rekkem 2006
codering
DBNL-TEI 1
Wijze van coderen: standaard
dbnl-nr _low001200601_01
logboek
- 2011-04-21 IB colofon toegevoegd
verantwoording
gebruikt exemplaar
eigen exemplaar dbnl
algemene opmerkingen
Dit bestand biedt, behoudens een aantal hierna te noemen ingrepen, een diplomatische weergave van jaargang 14 van The Low Countries uit 2006.

De Digitale Bibliotheek voor de Nederlandse Letteren beijvert zich voor het verkrijgen van toestemming van alle rechthebbenden; eenieder die meent enig recht te kunnen doen gelden op in dit tijdschrift opgenomen bijdragen, wordt verzocht dit onverwijld aan ons te melden (dbnl.auteursrecht@kb.nl).
redactionele ingrepen
Eindnoten zijn doorgevoerd in de lopende tekst. Pagina 262 is hierdoor komen te vervallen. Een eventuele kop boven de noten is steeds verwijderd.
p. 3: De titel 'The Low Countries' op pagina 2 en 3 is in zijn geheel op pagina 3 geplaatst. Pagina 2 is hierdoor komen te vervallen.
p. 44-45: Het bijschrift 'Paul Delvaux, Evening Trains. 1957. Koninklijke Musea voor Schone Kunsten, Brussels. © Fondation Paul Delvaux, St Idesbald - sabam Belgium 2004.' op pagina 44 is bij de desbetreffende illustratie op pagina 45 geplaatst.
p. 262-263: Het bijschrift 'Photo on p. 263 © Christophe Coppens, 2005.' op pagina 262 is bij de desbetreffende illustratie op pagina 263 geplaatst.
Bij de omzetting van de gebruikte bron naar deze publicatie in de dbnl is een aantal delen van de tekst niet overgenomen. Hieronder volgen de tekstgedeelten die wel in het origineel voorkomen maar hier uit de lopende tekst zijn weggelaten.
[pagina [voorplat]]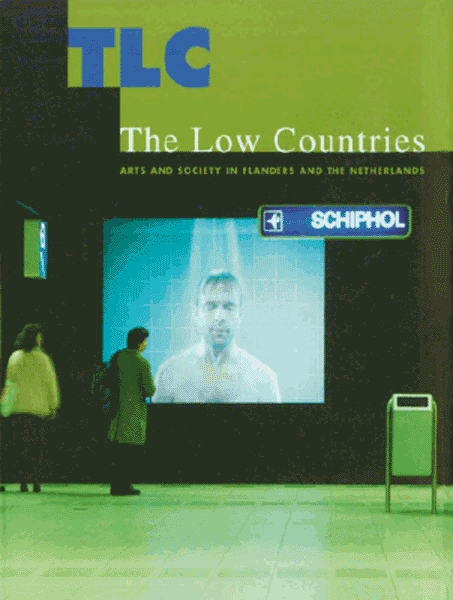 Association
This fourteenth yearbook is published by the Flemish-Netherlands Association 'Ons Erfdeel vzw', with the support of the Dutch Ministry of Education, Culture and Science (The Hague) and the Flemish Ministry of Culture (Brussels).
The Association 'Ons Erfdeel vzw' also publishes the Dutch-language periodical Ons Erfdeel and the Frenchlanguage periodical Septentrion. Arts, lettres et culture de Flandre et des Pays-Bas, the-bilingual yearbook De Franse Nederlanden - Les Pays-Bas Français and a series of books in several languages covering various aspects of the culture of the Low Countries.
The Board of Directors of 'Ons Erfdeel vzw'
President:
Herman Balthazar
Managing Director:
Luc Devoldere
Directors:
Greetje van den Bergh
Jan Bosselaers
Marcel Cockaerts
Jan Desmyter
Bert de Graeve
Cecile Maeyaert-Cambien
Aad Nuis
Frits van Oostrom
Adriaan van der Staay
Ludo Verhoeven
Honorary President:
Philip Houben
Address of the Editorial Board and the Administration
'Ons Erfdeel vzw', Murissonstraat 260, 8930 Rekkem, Flanders, Belgium
T +32 56 41 12 01, F +32 56 41 47 07
www.onserfdeel.be, www.onserfdeel.nl
Head of Administration:
Bernard Viaene
Administrative Secretaries:
Adinda Houttekier / Hans Verhaeghe
Aims
With The Low Countries, a yearbook founded by Jozef Deleu (Chief Editor from 1993 until 2002), the editors and publisher aim to present to the English-speaking world the culture and society of the Dutch-speaking area which embraces both the Netherlands and also Flanders, the northern part of Belgium.
The articles in this yearbook survey the living, contemporary culture of the Low Countries as well as their cultural heritage. In its words and pictures The Low Countries provides information about literature and the arts, but also about broad social and historical developments in Flanders and the Netherlands.
The culture of Flanders and the Netherlands is not an isolated phenomenon; its development over the centuries has been one of continuous interaction with the outside world. In consequence the yearbook also pays due attention to the centuriesold continuing cultural interplay between the Low Countries and the world beyond their borders.
By drawing attention to the diversity, vitality and international dimension of the culture of Flanders and the Netherlands, The Low Countries hopes to contribute to a lively dialogue between differing cultures.
ISSN 0779-5815
ISBN 90-75862-79-2
Statutory deposit no. D/2006/3006/1
NUR 600/612
Copyright © 2006 'Ons Erfdeel vzw'
Printed by Die Keure, Bruges, Flanders, Belgium
Design by Luc De Meyer (Die Keure)
All rights reserved. No-part-of this publication may be reproduced in any form without the prior permission of the copyright holder.
[pagina 1]
The Low Countries
Cover:
Marijke van Warmerdam.
Shower. 1995.
Schiphol Station.
Photo courtesy Galerie van Gelder, Amsterdam
[pagina 3]
TLC 14
2006 The Low Countries
ARTS AND SOCIETY IN FLANDERS AND THE NETHERLANDS
Published by the Flemish-Netherlands Association Ons Erfdeel vzw


[pagina 4]
Editorial Board
Advisory Committee
Chief Editor:
E.M. Beekman, Amherst,

ma, usa

Luc Devoldere
André Brink, Cape Town, South Africa
Christopher Brown, Oxford, United Kingdom
Deputy Editors:
Bram Buijze, The Hague, The Netherlands
Dirk van Assche
Ian Buruma, London, United Kingdom
Frits Niessen
Patricia Carson, Ghent, Belgium
Reinier Salverda
Jan Deloof, Zwevegem, Belgium
Theo D'haen, Leuven, Belgium
Secretary:
Bruce C. Donaldson, Melbourne, Australia
Filip Matthijs
Charles Ford, London, United Kingdom
Amy Golahny, Williamsport,

pa, usa

Members:
Jaap Harskamp, London, United Kingdom
Saskia Bak
Adrian van den Hoven, Windsor, Ontario, Canada
Anton Korteweg
Jonathan Israel, Princeton,

nj, usa

Bart van der Straeten
Frank Ligtvoet, New York,

ny, usa

Hans Vanacker
Gitta Luiten, Amsterdam, The Netherlands
Martin Mooij, Capelle a / d IJssel, The Netherlands
Paul R. Sellin, Los Angeles,

ca, usa

William Z. Shetter, Bloomington,

in, usa

Johan P. Snapper, Berkeley,

ca, usa

Kees Snoek, Rotterdam, The Netherlands
Paul Vincent, London, United Kingdom
Leo Vroman, Fort Worth,

tx, usa

Rudi Wester, Paris, France
John Willemse, Pretoria, South Africa
Michael J. Wintle, Amsterdam, The Netherlands
Manfred Wolf, San Francisco,

ca, usa

Joanna Woodall, London, United Kingdom
[pagina 5]
Contents
With warm regards from foreign parts
11
Luc Devoldere
Explore your Prison
12
From Ypres to Verdun: Not the memory, but the spectacle...
(An Extract from Geert Mak's 'In Europe')
15
Raf de Bruyn
Arrival & Departure Travelling to and from the Low Countries
26
Jellichje Reijnders
The Adventurous Endeavours of Joost Conijn
Potentialities of Autonomous Travel through Life
35
Luc Devoldere
Barefoot and on horseback to the Mongols, whom we call Tartars
The Mission of a Flemish Monk
46
From Turpan to Kashgar: The bus is not suitable for foreigners
(An extract from Adriaan van Dis' 'A Barbarian in China')
48
Michiel van Groesen
Portrait of the Traveller with Burin and Printing Press The Representation of Dutch Maritime Expansion in the De Bry Collection of Voyages
56
From Africa to Africa: The Return of a Dead Traveller
(An Extract from Frank Westerman's 'El Negro and Me')
58
Manfred Sellink
Out and about with Bruegel
65
Filip Luyckx
Christoph Fink's Travel Accounts Aesthetics of the Contemporary Worldview
[pagina 6]
72
Anton Korteweg
Notices to Travellers
Poems by W.J. van Zeggelen, Nicolaas Beets, Jopie Breemer, Richard Minne, Jacqueline E. van der Waals, Jan van Nijlen, M. Vasalis, Bergman, Miriam Van hee, Ingmar Heijtze and Menno Wigman
86
Derek Blyth
A Road Less Travelled The Road to Antwerp Beach - A Journey along the N1
93
Filip Matthijs
Even at Home I am not a Tourist
102
Gerard van Westerloo
The Dutch Raise their Voices
107
Marieke van Rooy
Perfectly Happy in Vinex-Land
115
Carl Devos
Blood or Soil A Stroll through Belgian Absurdistan
121
Piet Chielens
The End of a War National and Private Monuments Commemorating the Great War in Flanders
136
Ingeborg Walinga
Self-Willed or Superfluous? Art in Public Space in the Netherlands
144
Patrick T. Murphy
Borremans' Circus
150
Lutgard Mutsaers
Hit the Road Bands in Search of an Audience Abroad
157
Louis van Dievel
Joost Swarte, Knight of the Clear Line
163
Frank Hellemans
The Tao of Literature Life as it is, according to Patricia de Martelaere
Two Extracts from 'The Unexpected Answer' by Patricia de Martelaere
[pagina 7]
172
Hans Aarsman
Mystery on the March On Dirk Braeckman's Photos
177
Ad Zuiderent
Doing the Fosbury Flop Gerrit Krol's Literary High-Jump
Two Poems and an Extract by Gerrit Krol
189
Johan de Smet
One Only Has Oneself Fernand Khnopff, a Belgian Dandy in European Symbolism
197
Vic Nachtergaele
A Beacon for Europe Emile Verhaeren 1855-1916
Four Poems by Emile Verhaeren
206
Emile Wennekes
Loud Chords and Calm Moments Louis Andriessen, Composer
211
Peter Karstkarel
Leeuwarden: Triumph and Tragedy
221
Gary Schwartz
Yes, But Rembrandt as an Unstable Medium
227
Bart van der Straeten
'Nothing worthwhile ever happens, except maybe some acts of consolation' Literature according to Herman Brusselmans
Two Extracts by Herman Brusselmans
238
Peter de Bruijn
'Cast off the names that others had applied' On the Poet Gerrit Achterberg
Two Poems by Gerrit Achterberg
247
Klaas van Berkel
The Unexpected Popularity of Antoni van Leeuwenhoek
253
Such is our proud, though oft-diluted, Dutch heritage
(An extract from John Updike's 'A Letter to my Grandsons')
[pagina 8]
Chronicle
Architecture
264
Marieke van Rooy
A Sea of Models
The Second International Architecture Biennial in Rotterdam
Cultural Policy
266
Hans Vanacker
Forever Curious
The Mondriaan Foundation
267
Rudi Wester
'We pay too much attention to ourselves'
The Netherlands and International Cultural Policy
269
Frits van Oostrom
Soundly Based, but not Set in Stone
In Search of a Canon to be Cherished
Dance and Theatre
272
Koen van Kerrebroeck
Ben Benaouisse or the Art of Remembering
Language
275
Derek Blyth
Of Rabbits and Queens
The Hardship and Bliss of Learning Dutch
276
Reinier Salverda
'Good butter and good cheese is good English and good Frieze'
Frisian Language and Culture today
History
280
Hans Cools
The Dutch Reformation Revisited
282
Erwin Joos
One Foot in America
Antwerp and the Emigrants of the Red Star Line
Literature
285
Annette Portegies
Clio Offside?
University of Groningen Opens Biographical Institute
287
Elsbeth Etty
Fate Decided Otherwise
Henk van Woerden (1947-2005)
[pagina 9]
Music
288
Lutgard Mutsaers
Never Sell Out
More than 25 Years of The Ex
290
Mark Delaere
The Listener's Contribution
Composing according to Joachim Brackx
Science
293
Dirk van Delft
A Coffee-Cup Full of Helium
Heike Kamerlingh Onnes (1853-1926)
Society
296
Ewald Pironet
A Truck Every Three Seconds
Antwerp and the Deurganckdok
298
Willem Breedveld
Citizenship is the Highest Office
Job Cohen, 'European Hero'
Visual Arts
300
Veerle Windels
The Passion of Creating
Christophe Coppens, Designer Artist
302
Frank van der Ploeg
Harmony
The Conciliatory Figurativeness of Matthijs Röling
306
Dirk van Assche
Three Museums Working in Harmony
The 'Vlaamsekunstcollectie' Project
309
Filip Matthijs
Short Takes
318
Contributors
319
Translators
[pagina [achterplat]]
Address of the Administration
Ons Erfdeel vzw, Murissonstraat 260, 8930 Rekkem, Flanders, Belgium
T +32 56 41 12 01, F +32 56 41 47 07, E tlc@onserfdeel.be
www.onserfdeel.be, www.onserfdeel.nl, vat be 0410.723.635
Prices for the yearbook 2006, no. 14
Australia a$ 70, Belgium € 37, Canada c$ 60, The Netherlands € 39, New Zealand nz$ 80, Republic of Ireland € 39, South Africa r 350, United Kingdom £ 30, usa $ 50
Other Countries: the equivalent of € 45
All prices inclusive of shipping costs
Payment by cheque: + € 17.55 bank costs