bron
The Low Countries. Jaargang 20. Ons Erfdeel, Rekkem 2012
codering
DBNL-TEI 1
Wijze van coderen: standaard
dbnl-nr _low001201201_01
logboek
- 2016-08-01 AB colofon toegevoegd
verantwoording
gebruikt exemplaar
eigen exemplaar dbnl
algemene opmerkingen
Dit bestand biedt, behoudens een aantal hierna te noemen ingrepen, een diplomatische weergave van The Low Countries. Jaargang 20 uit 2012.

De Digitale Bibliotheek voor de Nederlandse Letteren beijvert zich voor het verkrijgen van toestemming van alle rechthebbenden; eenieder die meent enig recht te kunnen doen gelden op in dit tijdschrift opgenomen bijdragen, wordt verzocht dit onverwijld aan ons te melden (mailto:dbnl.auteursrecht@kb.nl).
redactionele ingrepen
Bij de omzetting van de gebruikte bron naar deze publicatie in de dbnl is een aantal delen van de tekst niet overgenomen. Hieronder volgen de tekstgedeelten die wel in het origineel voorkomen maar hier uit de lopende tekst zijn weggelaten. Ook de blanco pagina's (binnenkant voorplat, 313, binnenkant achterplat) en pagina's met advertenties (317, 318, 319) zijn niet opgenomen in de lopende tekst.
[ voorplat]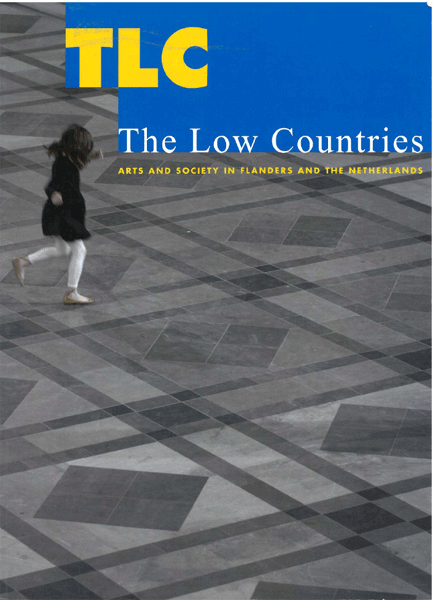 Still from Antwerpen Centraal, a film by Peter Krüger. © Sophimages, 2011.
TLC
The Low Countries
arts and society in flanders and the netherlands
[pagina 1]
The Low Countries
[pagina 2]
TLC
2012
The Low Countries
ARTS AND SOCIETY IN FLANDERS AND THE NETHERLANDS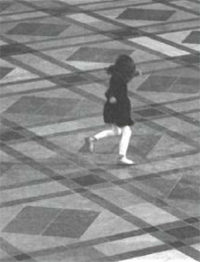 Tenacious
Worldwide
Enchanting
Notable
Tempting
Yearbook
[pagina 3]
20
Published by the Flemish-Netherlands Association
Ons Erfdeel vzw

[pagina 4]
Editorial Board
Chief Editor:
Luc Devoldere
Deputy Editors:
Dirk Van Assche
Frits Niessen
Reinier Salverda
Members:
Saskia Bak
Derek Blyth
Tom Christiaens
Pieter Coupé
Anton Korteweg
Filip Matthijs
Hans Vanacker
Advisory Committee
André Brink, Cape Town, South Africa
Christopher Brown, Oxford, United Kingdom
Bram Buijze, The Hague, The Netherlands
Ian Buruma, New York,

usa
Patricia Carson, Ghent, Belgium
Jan Deloof, Zwevegem, Belgium
Jeroen Dewulf, Berkeley,

ca, usa
Theo D'haen, Leuven, Belgium
Bruce C. Donaldson, Melbourne, Australia
Jane Fenoulhet, London, United Kingdom
Charles Ford, London, United Kingdom
Amy Golahny, Williamsport,

pa, usa
Jaap Harskamp, London, United Kingdom
Adrian van den Hoven, Windsor, Ontario, Canada
Jonathan Israel, Princeton,

nj, usa
Frank Ligtvoet, New York,

ny, usa
Gitta Luiten, Amsterdam, The Netherlands
Martin Mooij, Capelle a / d IJssel, The Netherlands
Gary Schwartz, Maarssen, The Netherlands
Paul R. Sellin, Los Angeles,

ca, usa
William Z. Shetter, Bloomington,

in, usa
Johan P. Snapper, Berkeley,

ca, usa
Kees Snoek, Rotterdam, The Netherlands
Paul Vincent, London, United Kingdom
Leo Vroman, Fort Worth,

tx, usa
Rudi Wester, Amsterdam, The Netherlands
John Willemse, Pretoria, South Africa
Michael J. Wintle, Amsterdam, The Netherlands
Manfred Wolf, San Francisco,

ca, usa
Joanna Woodall, London, United Kingdom
[pagina 5]
Contents
The Seriousness of Play
11
Luc Devoldere
12
Max Dohle
The Dutch Thaw Out When It Freezes Skating as a National Sport
18
Patrick Cornillie
Flanders Is Racing, Racing Is Flanders

Cycle Racing as a National Sport

26
Let's Play Portfolio
36
Raf De Bont
The People's Bird On Belgians and Their Pigeons
42
David Winner
Winning or Playing Nicely Dilemmas in Dutch Football
50
Willem Otterspeer
Man the Player Huizinga's 'Homo Ludens' Revisited
58
Hans Vandeweghe
The Podium for Holland, The Plush Bench for Belgium The Low Countries and the Olympic Games
66
Anton Korteweg
'Writing Poetry's Cycling Up Mont Ventoux' Ten Poems on Sport
[pagina 6]
78
Derek Blyth
From Our Own Correspondent How Foreign Journalists Report the News from Brussels
84
Jeroen Dewulf
Literature as Resistance Dutch Clandestine Literature (1940-1945)
94
Lieve Dierckx
Room for Variation The Dance of Sidi Larbi Cherkaoui
102
Nop Maas
Haarlem Wandering Through Myths
110
Robin Briggs
'We Can Get the Witch-Doctor but We Cannot Get God' Witchcraft in the Low Countries
118
Karin Wolfs
'You Don't Know Me' The Breakthrough of Urszula Antoniak
126
Karel Porteman
Joost van den Vondel (1587-1679) at 425
140
Jos Bouveroux
The Political Expression of Flemish Nationalism
150
Eric Rinckhout
Jan Vanriet and the Beauty of Evil Painting is War
158
Arnold Heumakers
Revealing the Clear Secret Harry Mulisch (1927-2010)
164
Marieke van Rooy
From Utopia to Vinex Estate The Transformation of the Bijlmermeer District in Amsterdam
172
Anneleen De Coux
Searching the Poems as a Suspect Element The Poetry of Charles Ducal
182
Amy Golahny
Lievens and Rembrandt Parallels and Divergences
[pagina 7]
190
Petri Leijdekkers
Piet Hein Eek The Value of Sustainability
198
Marja Bosma
Charley Toorop A Deeper Longing
206
Ewald Pironet
Dredging What Two Small Countries Are Really Big In
214
Tom Van Imschoot
Disruptive Images, Historical Friction
On the Work of David Van Reybrouck
224
David Stroband
An Ode to 'What If' Thinking The World of Mark Manders
232
Lutgard Mutsaers
Dylan's Kin in the Lowlands
240
Johan Vandenbroucke
Jeroen Brouwers' Paper Monument
250
Jaap Harskamp
Art and Immigration
260
David Stroband
The Dream in the Reality in the Dream The Universe of Saskia Olde Wolbers
[pagina 8]
Chronicle
Fashion
270
Martino Bidotti
A Big Friendly Giant
Contrasts and Extremes in Walter Van Beirendonck's Clothing
Film and theatre
272
Erik Martens
Bullhead
Illegal Hormones for the Mass Market
274
Jos Nijhof
Eccentric, Venomous, Topical
Wunderbaum Theatre
276
Evelyne Coussens
How Ontroerend Goed Widened Its International Circuit
History
279
Ruben Schalk
The Oldest Share Certificate in the World
281
Walter Simons
The 'Pirenne Phenomenon'
Language
283
Reinier Salverda
Principles for the Linguistic Future of Europe
Philippe Van Parijs on Justice, Fairness and Respect among Languages
Literature
286
Gert Jan Pos
Sex, Death and Rock 'n' Roll in Peter Pontiac's Cartoons
289
Hans Vanacker
An Open Book in an Open Landscape
Dutch Writers in Beijing
290
Stefanie van Gemert
Why Hella S. Haasse's Work Does Not Need Introduction Abroad
Music
293
Pieter Coupé
Imagination Takes You Everywhere
dEUS and the Rest of the World
[pagina 9]
Science
295
Tomas Vanheste
Douwe Draaisma and the Mysteries of Autobiographical Memory
Politics
297
Hendrik Vos
The Netherlands Turns Eurosceptic
299
Petra de Koning
A New Federal Government for Belgium after 541 Days
Society
301
Joris van de Kerkhof
Land, Wind and Water
Eighty Years of the IJsselmeer Dam
Visual arts
303
Marnix Verplancke
Animals More True to Life than Humans
Marten Toonder
304
Paul Depondt
Artistic Experience Knows No Bounds
Visual Arts Flanders 2012
306
Lut Pil
The Story of De Stijl
From Mondrian to Van Doesburg
308
Dirk Van Assche
Closed Yet Close By
The Royal Museum for Fine Arts in Antwerp
311
Cees Straus
A Twenty-Year Long Success Story
Museum De Pont in Tilburg
314
Contributors
315
Translators
316
Colophon
[pagina 316]
Colophon
Association
This twentieth yearbook is published by the Flemish-Netherlands Association 'Ons Erfdeel vzw', with the support of the Dutch Ministry of Education, Culture and Science (The Hague), the Flemish Authorities (Brussels) and the Provinces of West and East Flanders.
The Association 'Ons Erfdeel vzw' also publishes the Dutch-language periodical Ons Erfdeel and the French-language periodical Septentrion. Arts, lettres et culture de Flandre et des Pays-Bas, the bilingual yearbook De Franse Nederlanden - Les Pays-Bas Français and a series of books in several languages covering various aspects of the culture of the Low Countries.
The Board of Directors of 'Ons Erfdeel vzw'
President:
Herman Balthazar
Managing Director:
Luc Devoldere
Directors:
Bert De Graeve
Mark Leysen
Marita Mathijsen
Frits van Oostrom
Danny De Raymaeker
Paul Schnabel
Adriaan van der Staay
Ludo Verhoeven
Honorary President:
Philip Houben
Address of the Editorial Board and the Administration
'Ons Erfdeel vzw', Murissonstraat 260,
8930 Rekkem, Flanders, Belgium
T +32 56 41 12 01, F +32 56 41 47 07
www.onserfdeel.be, www.onserfdeel.nl
thelowcountriesblog.onserfdeel.be
VAT BE 0410.723.635
Kevin Vandenbussche Head of Administration
Adinda Houttekier Administrative Secretary
Aims
With The Low Countries, a yearbook founded by Jozef Deleu (Chief Editor from 1993 until 2002), the editors and publisher aim to present to the world the culture and society of the Dutch-speaking area which embraces both the Netherlands and also Flanders, the northern part of Belgium.
The articles in this yearbook survey the living, contemporary culture of the Low Countries as well as their cultural heritage. In its words and pictures The Low Countries provides information about literature and the arts, but also about broad social and historical developments in Flanders and the Netherlands.
The culture of Flanders and the Netherlands is not an isolated phenomenon; its development over the centuries has been one of continuous interaction with the outside world. In consequence the yearbook also pays due attention to the centuries-old continuing cultural interplay between the Low Countries and the world beyond their borders.
By drawing attention to the diversity, vitality and international dimension of the culture of Flanders and the Netherlands, The Low Countries hopes to contribute to a lively dialogue between differing cultures.
ISSN 0779-5815
ISBN 978-90-79705-115
Statutory deposit no. D/2012/3006/3
NUR 612
Copyright © 2012 'Ons Erfdeel vzw' and SABAM Belgium 2012
Printed by Die Keure, Bruges, Flanders, Belgium
Design by Luc De Meyer and Henk Linskens (Die Keure)
All rights reserved. No-part-of this publication may be reproduced in any form without the prior permission of the copyright holder.
[pagina 320]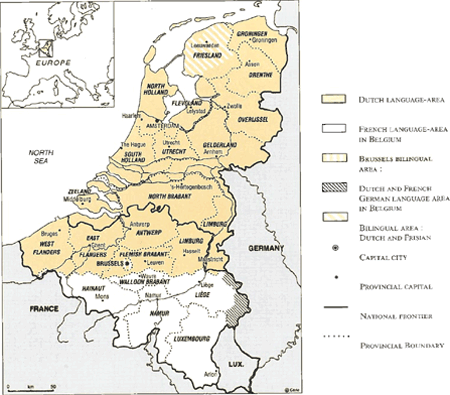 [ achterplat]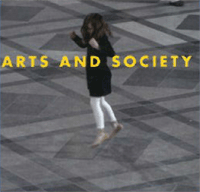 The Low Countries arts and society in flanders and the netherlands
The Seriousness of Play
The Dutch Thaw Out When It Freezes
Flanders Is Racing, Racing Is Flanders
On Belgians and Their Pigeons
Dilemmas in Dutch Football
Ten Poems on Sport
And Everything You Always Wanted to Know about
witchcraft in the Low Countries
dredging
Dylan's kin in the Lowlands
art and immigration
a big friendly giant
Lievens and Rembrandt
the oldest share certificate in the world
linguistic justice
dEUS
autobiographical memory
the IJsselmeer Dam
animals more true to life than humans
Harry Mulisch
etc., etc.